Villa Layout
Despite Villa Puri Balangan's hillside location, its living areas and bedrooms are mostly located on the same level. Stepping through its grand oriental-style entrance hall, you'll enter the main building which hosts the villa's living areas and one of the guest bedrooms. To the left of the main building you'll find a separate annex which holds the master bedroom. Two further guest bedrooms are located in detached outbuildings which can be accessed via a short flight of outdoor stairs. Villa Puri Balangan's infinity pool, balé and sun deck are located a couple of steps down from the main building, while the lower part of the garden and lawns can be accessed via another set of outdoor stairs to the right of the property.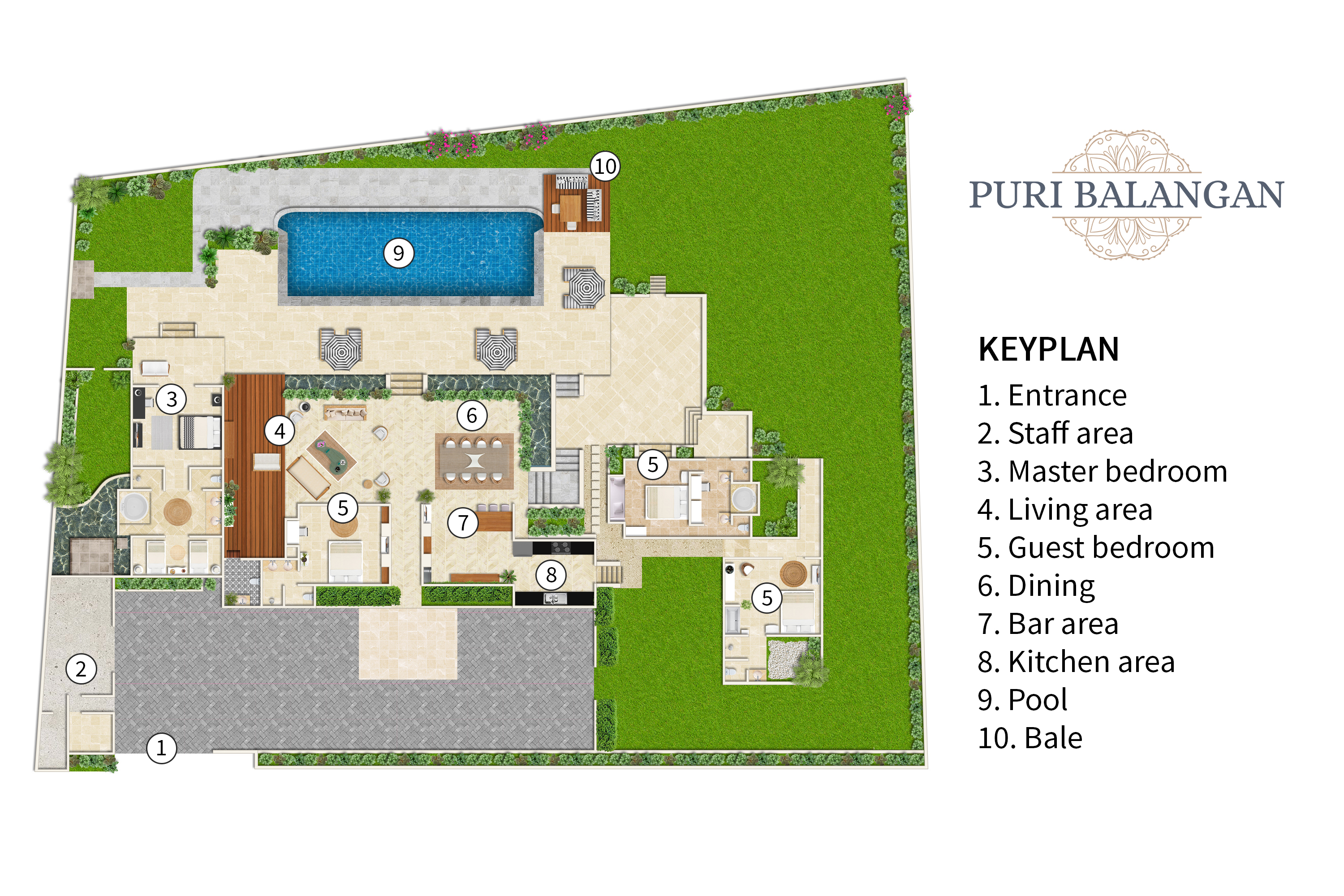 Download in high resolution
Indoor Living
Villa Puri Balangan's living areas are located in the open-air yoglo-style building and enjoy a cool breeze any time of the day. Combined with the gorgeous vistas and the villa's quiet natural surroundings, this really is outdoor living at its very best.
The indoor area's natural furnishings, subtle plant decorations and minimalist hints of emerald and turquoise perfectly complement the outdoor areas without ever distracting from the incredible views.
Thanks to the large rattan sofas, comfortable bamboo chairs, wooden four-poster daybed and gorgeous glass features, the lounge is a wonderful spot for hanging out with loved ones – especially at night when the villa's subtle lighting creates a magical atmosphere throughout.
The stunning glass dining table seats eight people and is excellent for catching up on the day's adventures over dinner.
Villa Puri Balangan has a spacious open-plan kitchen with a wide separate worktop and additional bar stools – great if you enjoy cooking a meal from scratch. 
Outdoor Living
Lying back on one of the comfortable sunbeds, you'll get a chance to fully appreciate how the endless vistas give new meaning to the idea of an 'infinity' pool. Shaded by frangipane trees, its indigo-coloured waters will invite you to jump in for a refreshing afternoon dip or some early morning lengths.
With its comfortable rattan sofas and near-constant gentle breeze, the large balé on the edge of the pool is a great corner for enjoying an alfresco meal, hanging out with loved ones, or simply watching the world below unfold.
Villa Puri Balangan's beautiful sloped tropical garden is very well-kept and has plenty of nooks and crannies to keep children entertained for hours. It also includes an old Banyan – a tropical tree revered across Bali for bringing good fortune as well as plenty of shade.
Master Bedroom
The immaculate master bedroom enjoys breathtaking ocean views. Thanks to its gorgeously draped four-poster king-size bed and stylish furniture, this room feels nothing less than 'pallatial'. The fittingly sumptuous ensuite bathroom is equipped with a rain shower, double vanity and a very large double ended bathtub which overlooks a beautiful private garden with a separate outdoor shower. A double set of doors in the ensuite bathroom leads to an annex with two additional single beds  ¬– great if you have smaller children.
2 Guest Bedrooms in Separate Outbuildings
Overlooking the hillside garden and the Indian Ocean, the two well-appointed annex guest bedrooms have striking four-poster king-size beds draped with a mosquito net. Both rooms have air conditioning, as well as a flat-screen TV and DVD player. Their lavish ensuite bathrooms are fitted with a large bathtub, double vanity and a rain shower which overlooks a lovely private patio garden.
Guest Bedroom in the Main Building
Located in the main building, this guest bedroom has easy access to the rest of the living areas and is equipped with a comfortable king-size bed, air conditioning, flat-screen TV and DVD player. Although slightly smaller than the other guest bedrooms, it is also fitted with an impressive ensuite bathroom and has lovely ocean views.